Season dates: March 1st to January 2nd
Glenn and Hannah Jones have owned and run Pearl Lake Leisure Park since 1998.
Pearl Lake is the largest natural lake in Herefordshire and is the crowning jewel to 80 acres of rolling park land that also sees a challenging 9 hole golf course, a crown bowling green and relaxing woodland walks.
We believe that Pearl Lake has the best of everything… a wonderful countryside location, peace and quiet, fantastic leisure facilities and a warm and welcoming family atmosphere.
Spacious, safe open spaces
5 Star dog friendly holiday park with golf, fishing and restaurant
Pearl Lake is a 5 Star caravan holiday park in Herefordshire with private on site golf course, fishing lake and restaurant near to the historic Welsh border.
Caravan holiday home ownership – Indulge yourself as an owner on this exclusive, private caravan holiday home park.
Touring caravans and motorhomes – Enjoy relaxing touring holidays on our 15 pitch, fully serviced touring site.
Self-catering holidays – Relaxing weekends, short breaks and holidays in our luxury self-catering accommodation.
Dog friendly site – Dog wash, secure dog walk area, off-lead woodland walks – perfect for you and your dog
Exclusive on site facilities – Challenge yourself on our 9 hole golf course, spend the afternoon hoping for a bite on the natural fishing lake, relax with a mellow game of crown green bowls, unwind with a drink and a meal in 'The Lakeside 'restaurant & bar.
Quiet holiday location – Pearl Lake is surrounded by beautiful countryside with quiet walks and cycling. A perfect setting to own your own caravan holiday home or visit for a last minute break in your touring caravan or motorhome.
WiFi on park is free, although, with the quirks of Herefordshire broadband, this is best left for checking emails and social media posts and not fit for downloading or streaming services.
For a holiday destination where life feels right, come and see us at Pearl Lake Country Holiday Park, Herefordshire.
The Discover Parks Team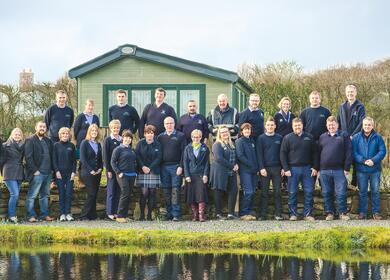 The maintenance crew who do everything from running repairs to mowing are constantly working with the owners on improvements to the park and upgrading holiday home pitches and touring pitches as necessary. Specialists are brought in for the extra services such as electric and gas.
The heated toilet/shower facilities, laundry areas, dishwashing facility and dog wash areas are cleaned daily by the housekeeping team who also do an excellent job of cleaning the self-catering properties on change-over day.
The reception team will always endeavour to assist with bookings, enquiries or organising cleaning and maintenance on your home and your touring caravan. The 'out of hours' number means there is always someone on call if an emergency arises.
If you would like to know more, please get in touch on 01568 708326, email us or come and visit any day 9.00am – 5.00pm.
We look forward to welcoming you to Pearl Lake.