Please note: due to the roadside trees on the touring area that offer both welcome shade and privacy there is no Sky / satellite tv reception.
Pearl Lake has 80 acres of rolling parkland, by comparisson the touring area is just 15 fully serviced pitches near the entrance to the park. Some of the touring pitches are alongside a B road and this will cause road noise. Although it is important to be aware that road noise can be heard on all pitches, we are sure that the quality of the facilities on offer at Pearl Lake can outweigh any discomfort caused by passing traffic. However if you would like a touring site with no road noise then please take a look at Arrow Bank or Rockbridge Park where peace and quiet are (virtually) guaranteed.
| | |
| --- | --- |
| Price per pitch, per night- 2023 |   |
| Low season | £25.00 |
| Mid season | £32.00 |
| High season | £37.00 |
| | |
| --- | --- |
| Please note extras to be charged for: |   |
| Children under five years old | free |
| Children 5 - 14 years old (per child, per night) | £2.50 |
| Extra persons, 15 years + (per person, per night) | £5.00 |
| Additional vehicles (per pitch, per night) | £2.00 |
| Pup Tent (+ charge for extra person) | £2.00 |
| Dog (per dog, per night. No unsocial dogs. Max. 2 per pitch) | £1.00 |
| Extended stay (until 4.00pm) subject to availability. | £5.00 |
| Day visitors (per person) | £2.00 |
| Golf (per person, per day) | £8.00 |
| Fishing (per person, per day) | £4.00 |
|   |   |
Season dates: March 1st to January 2nd
Arrival time from 12pm onward, please vacate pitch by 11am on day of departure. Extended stay may be available subject to availability.
Dates are inclusive, deposit required at time of booking (Full payment in high season)
Low season: 01/11 - 21/12, Mid season: 01/03 - 31/10, High season: 01/04 - 04/06, 21/07 - 03/09, 22/12 - 31/12
High season may have a minimum stay restriction, please ring if your preferred dates are not showing as available.
Please call 01568 708326 and speak to a member of the team if the booking system does not cover the extra's you may require.
All pitches:
Hard standing, fully serviced, drinking water, 16A electric hook-up, amplified digital tv connection, night light on service bollard and grey waste drainage.
Please only use breathable groundsheets in your awning. If you are staying for an extended time please roll back groundsheet periodically to allow grass to breathe fully.
Golf and fishing are 'pay as you play' see extras tariff above.
WiFi on park is free, although, with the quirks of Herefordshire broadband, this is best left for checking emails and social media posts and not fit for downloading or streaming services.
Use our secure online booking system to book your holiday now.
Get a great quote from Compass Insurance for your touring caravan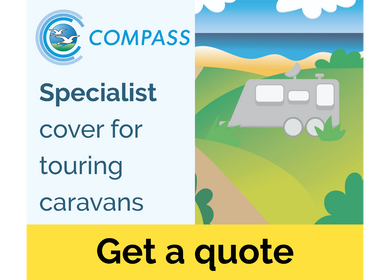 We work closely with Compass Insurance to help our customers get the best deal for their needs.
Click here to get a quote for your touring caravan with our trusted insurance partner.