5 star holiday park with golf course
Our golf course is in the heart of our Leisure Park, right on the doorstep of your holiday home, touring caravan or self-catering cottage.
Pearl Lake in Herefordshire offers beautiful surroundings for your holiday and we believe it is a huge bonus to have such a wonderful golf course exclusively for people who stay with us.
 We hope this will further enhance your enjoyment of this wonderful course as it remains a very good test for golfers of any level.
There is a fantastic choice of 18 hole courses with 30 minutes drive of the park, including Kington Golf Course - the highest 18 hole course in the country. You can fine tune your game with a quick practice round at Pearl Lake before you head off to break that course record!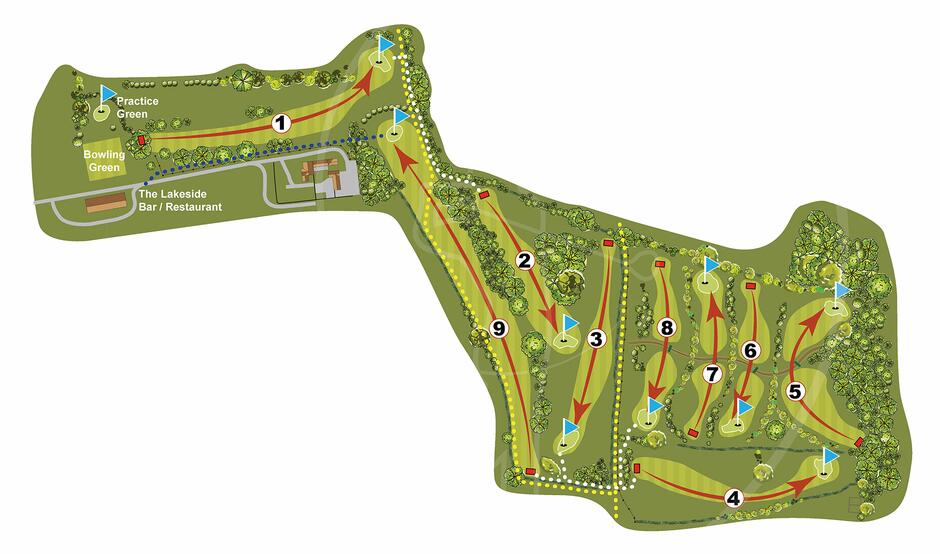 2023 will see a brand new course layout.
There are 5 completely new holes, and the existing first hole has been lengthened to create a tricky dog-leg par 4. 3 holes remain unchanged.  A sprinkler system has been installed to service all 9 greens, this will enable us to maintain a much better quality putting surface.
For the holiday home owners at Pearl Lake there is no charge for use of the golf course. Golf is also free for self-catering guests staying at Pearl Lake. For our touring customers and guests staying at other Discover Parks, day rate green fees are applicable.
Don't be fooled by the fact it is 'only' 9 holes, this course will test the best of golfers not with its length but with the need for accuracy.
A course suited for beginners and competent golfers alike, a great course to learn on as it is not intimidating and a course that grows with you as you try to reduce your handicap.
Straight hitters will benefit from keeping the ball in play, as opposed to long hitters that are wayward off the tee, but it's the short game that will give the greatest return. Some narrow greens and water hazards, deep bunkers and tree-lined fairways all make this a little course that leaves a big impression.
The course has encouraged some of the holiday home owners to take up golf for the first time, others are happy to play in the competitions organised by both ladies and gents golf societies.
With 3 different tees for each hole, white, yellow and red, effectively there are 27 holes to play now. Graded 'Hard' (white), 'Medium' (yellow), and 'Easy' (red), a different approach on each hole will be needed as you navigate your way to that perfect round.
Hole 1 – Par 4 "Oak No More"
229 yds White Tee
215 yds Yellow Tee
215 yds Red Tee
A testing opening hole has just got much more tricky for 2023. Now a short par 4, the old oak tree has gone and the green has been repositioned to create a longer dog-leg left. Yes, big hitters can hit the green in one but beware it is out-of-bounds on the right!  My suggestion... play it safe, on for 2 and 2 putts, start with a solid par.
Hole 2 – Par 3 "The Spinney"
149 yds White Tee
144 yds Yellow Tee
139 yds Red Tee
The shortest hole on the course and deceptively difficult. Trying to hold a green that slopes away from the tee is hard and with a deep bunker to the left sometimes the smart money is placed on a safe shot. Short game skills are almost always called in to action here to make par.
Hole 3 – Par 3 "Shobdon Rise"
186 yds White Tee
184 yds Yellow Tee
184 yds Red Tee
A long uphill par 3 that reduces the carry of your tee shot. The fence line left is out of bounds and the bunker front left of the green stops many going for the flag but if you miss the green or end up too far from the hole, the tiered putting surface makes putting for par nerve-wracking.
Always enjoyable to play, always eventful, always sociable. A great course to practice on, to play on and to sharpen those skills.
Hole 4 – Par 3 "Top to Bottom"
173 yds White Tee
173 yds Yellow Tee
165 yds Red Tee
The first of the new holes for 2023, this downhill hole will question your club choice. Less club needed as the green is lower than the tee, but can you hit that high, floaty, Rory McIlroy draw over the big tree and land it oh-so-softly on the small green? Good luck!
Hole 5 – Par 3 "Round T' Bend"
149 yds White Tee
133 yds Yellow Tee
146 yds Red Tee
Fortune favours the brave. Is that true for golf too? This may well become one of the toughest holes on the new course. Playing to a blind green can you move the ball in flight from left to right with enough loft to clear the trees and still find the green?
Hole 6 – Par 3 "Short & Sweet"
131 yds White Tee
129 yds Yellow Tee
129 yds Red Tee
Short holes in golf are only easy if you find the green from the tee or, if you are a long way from the hole, you can lag your first putt to 'gimme' range. This is the first hole where it feels a bit easier, but don't be distracted. The next 3 holes should be a joy to practice your short iron tee shots and your short game around the dance floor.
Hole 7 – Par 3 "Three To Play"
135 yds White Tee
139 yds Yellow Tee
130 yds Red Tee
How is your round coming together? Don't play the hero on these holes, just keep it together. If you miss the green here, miss it short. There are bunkers left and right and OOB at the back. You have been warned!
Hole 8 - Par 3 "Lucky Eight"
144 yds White Tee
149 Yellow Tee
140 Red Tee
Don't be fooled by this hole. The green is going to be a tricky prospect, even on slow days. With two tiers sloping down from back to front it will be easy to putt off the front of the green. Play smart, leave yourself an uphill putt or, if you miss the green, an uphill chip from front left. This could be a card-wrecker, don't let it wreck yours!
Hole 9 - Par 4 "Windy Heights"
325 yds White Tee
329 yds Yellow Tee
320 yds Red Tee
On paper this hole looks straightforward but the tee shot threatens out-of-bounds left and right and the best place to land the ball with any chance of reaching the green in two with a short iron is after the dog-leg left, this means hitting over the out-of-bounds area on the left and over the big tree. Get it wrong and this hole has ruined many a good start, get it right and regale the clubhouse with heroic tales of long drives and unlikely pars.
Coming back and bringing my clubs such a lovely little golf course , I give this 5*, don't want to go home.