Get lost in another world
Woodland walks on holiday are arguably better than any other woodland walks! We have 20 acres of woodland at Pearl Lake with paths threading through and benches along the way. Many an hour can be lost in this glorious environment with glimpses of the lake and wildlife aplenty this is a real haven for the nature lovers.
Early morning photography offers plenty of atmosphere as does the spendour of Autumn colours - what a great place to spend some time or walk the dog or take a stroll together. The path is gravelled so it offers mobility scooter access as well as being a perfect surface and a safe, traffic free environment for the children to enjoy on bicycles.
Woodland dog walks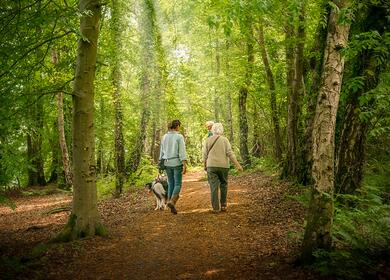 If you have a nervous dog, one that prefers their own space and not the uninvited company of other dogs, then our woodland walk is perfect for them (and you).
If you want to be mindful, perhaps and spend some quality time alone in nature, again what better place that this woodland haven. To have the opportunity to enjoy woodland like this, on your 'doorstep' (touring caravan / holiday home) feels like a gift - something we should not take for granted and somewhere we should cherish.
As the path does a complete circuit of the lake, some even use it for exercise and can be seen on their morning jog.