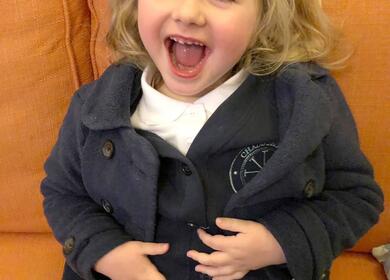 Daisy is 4 years old; a beautiful little girl with a smile to melt your heart. She is the granddaughter of Lin and Pete Marsden at Pearl Lake B28
Her twin sister, Martha, has already started school. Daisy, however, will not be at the same school as her sister, she will be attending a special school in Bromsgrove on a part-time basis.
Daisy is unable to walk, talk, sit up or feed herself and she has epilepsy. She has the life-limiting condition Rett Syndrome - a post-natal neurological disorder which most often affects previously healthy little girls around the age of 12-18 months - and will require 24 hour care for the rest of her life.
The charity Reverse Rett (www.reverserett.org.uk) is a small charity dedicated to changing the lives of children and adults with Rett Syndrome. They believe that change is not only possible, it is within reach. Researchers have proved that a cure is possible by using genetic engineering, although there are currently no approved drugs or treatments for the many symptoms of Rett Syndrome.
As a charity close to the hearts of Lin and Pete, on August Bank Holiday weekend Discover Parks will have an event with monies donated to help fund a cure for this terrible condition. If anyone has any other ideas and would like to fund raise for this amazing cause please chat to us in reception.
"Where there's hope, there's life. It fills us with fresh courage and makes us strong again." Anne Frank