Season dates: March 1st to January 2nd
Pearl Lake is a great location for your touring caravan or motorhome holiday, sorry we do not accept tents at this park. 
A 5 star holiday park with superb on-park facilities and activities:
Challenge yourself on our private 9 hole golf course, relax around the natural 15 acre lake, join a game of bowls or stroll along woodland nature trails. We are a dog friendly holiday park so you can bring your pets (maximum of 2 dogs) and enjoy plenty of long, lazy walks.
Touring - Mid Week 3 for 2
Make the most of the quieter times throughout the season with our Midweek Special Offers.
Pay for 2 nights touring or camping - Get 1 Free Night!
At Pearl Lake we want you to enjoy your stay with us. The excellent heated facilities building has free hot showers and we also have a laundry room, washing up / veg prep area, all access wet room with baby changing table, and a dog wash (with hot shower and hair dryer!)
Golf and fishing are 'pay as you play' see tariff page.
WiFi on park is free, although, with the quirks of Herefordshire broadband, this is best left for checking emails and social media posts and not fit for downloading or streaming services.
book now Tariff See our special offers
Please note: due to the roadside trees on the touring area that offer both welcome shade and privacy there is no Sky / satellite tv reception.
**Pearl Lake has 80 acres of rolling parkland, by comparisson the touring area is just 15 fully serviced pitches near the entrance to the park. Some of the touring pitches are alongside a B road and this will cause road noise. Although it is important to be aware that road noise can be heard on all pitches, we are sure that the quality of the facilities on offer at Pearl Lake can outweigh any discomfort caused by passing traffic. However if you would like a touring site with no road noise then please take a look at Arrow Bank or Rockbridge Park where peace and quiet are (virtually) guaranteed.**
Get a great quote for insuring your touring caravan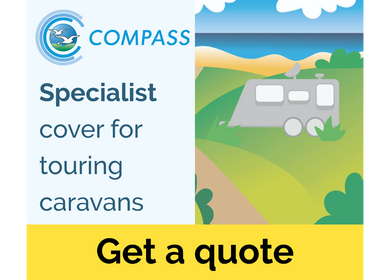 We work closely with Compass Insurance to help our customers get the best deal for their needs.
Click here to get a quote for your touring caravan with our trusted insurance partner.