There' so much you can do...
Pearl Lake Leisure Park in Shobdon, Leominster, Herefordshire is surrounded glorious unspoilt scenery alongside the Welsh border.
Superbly sighted holiday homes in generous plots nestle comfortably in 80 acres of rolling countryside, with ancient woodland, the largest natural lake in Herefordshire, 9 hole golf course and a crown bowling green to add to the tranquillity of it all.
Fishing at Pearl Lake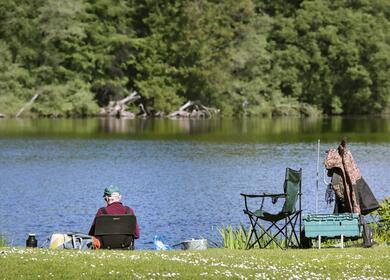 Pearl Lake is a natural lake that can be fished. This is an important distinction to be made as the lake is not stocked like a fishery although there are some impressive fish in the water. It is a challenge to temp the fish out of their hiding places – the reeds and snags, the lillies and fauna – and away from the abundant natural food in the lake.

There are 7 species of fish in Pearl Lake, Common, mirror and wild carp, Tench, Roach, Pike, Perch, Golden Rudd & Bream.
The mirror and common carp have been caught over the past few years up to 25lb, normally averaging around 15 to 17lb. The average weight of the tench is around 6lb although they have been caught at over 10lb. A wonderful environment for the pleasure angler and the more serious anglers can take part in the angling society matches.
More information on our natural fishing lake can be found here

For the holiday home customers fishing is free for the touring and overnight customers day tickets are applicable.
Current EA rod licence is required.
Golf at Pearl Lake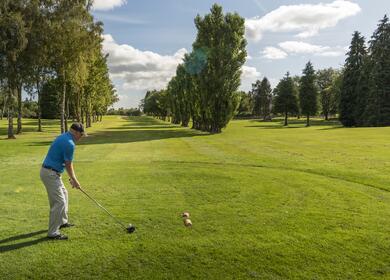 Fancy that relaxing game whenever the moment grabs you?
Pearl Lake has a fully fledged short course with three par 4's – the longest at 360 yards – and six challenging par 3's. The 2000 yard course suits the beginner and experienced golfer alike. The course has encouraged some of the holiday home owners to take up golf for the first time, others are happy to play in the competitions organised by both ladies and gents golf societies.
More information on our fabulous golf course

For the holiday home owners the golf is free, it comes with the package, for the touring customers and overnight customers day rate green fees are applicable.
Crown Green Bowling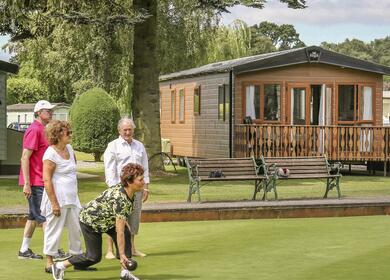 Pearl Lake has its own crown bowling green. Free for all to play, and if you would like to try it for the first time we even have some woods in reception for you to use. Spend a lovely relaxing evening on the green, or join the other enthusiasts for a match.
There is an informal bowls club on park that organises competitions and charity matches. These always attract plenty of interest, especially for those wanting to pull up a deck chair and enjoy the afternoon fun.
Right opposite the Lakeside Bar and Bistro it is a perfect way to spend a long lazy summer evening.
Rambling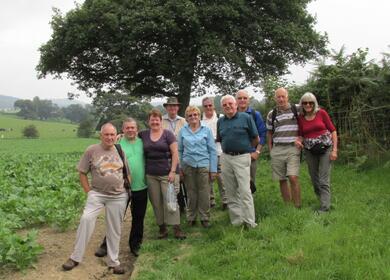 Such a pleasurable pastime, nothing quite beats that gentle stroll in glorious countryside with great company.
An abundance of wildlife surrounds the park and with 20 acres of woodland to wander through and nature trails for things to look out, every day brings something new to see. Further afield, there always seems to be a good circular walk that begins and ends at a cafe or a cracking pub.
Holiday home owners and tourers often join up for local walks full of interest, this always makes for a very sociable event with good company and easy walking.
Also on park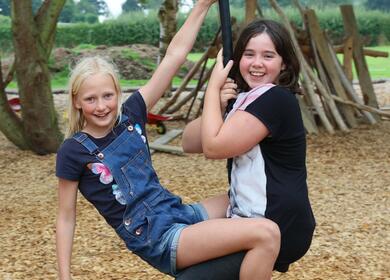 Lakeside Bar and Bistro offers a superb meeting place and hub of the park - either for the 19th hole to celebrate after a new golf course record, a cracking Sunday Roast or just to spend an enjoyable evening with old friends. The new Sun Terrace makes a great addition and Laura and her team look forward to welcoming familiar and new faces alike.
Lakeside will be open every weekend and public holidays.
Children can enjoy the play area, football pitch and recreation field with the new Adventure Play Area. This will keep them busy although they might just come back buzzing! Den Building area, Zip Wire (currently closed for maintenance) and BMX track.
Shobdon has a fantastic village shop and Post Office that takes care of all the essentials, and the local village pub is just a few minutes' walk away.
Pearl Lake is ideally situated to explore the marches towns, black and white villages, castles, hills and rivers of Herefordshire and the Welsh Borderlands.
Been on the site for over 35 years always love coming down