Sunseeker Sensation Lodge
2 Bedrooms,
40 x 20
Rare opportunity to purchase a luxury twin unit holiday lodge on a panoramic lake edge plot. Wrap-around decking is included. Spacious open plan living area with large glazed patio doors and front windows. Luxury appliance pack included. Built to residential standard for extra warmth in the cooler months. Available to view / ready to occupy, now!
£169,995
Sunseeker Sensation Lodge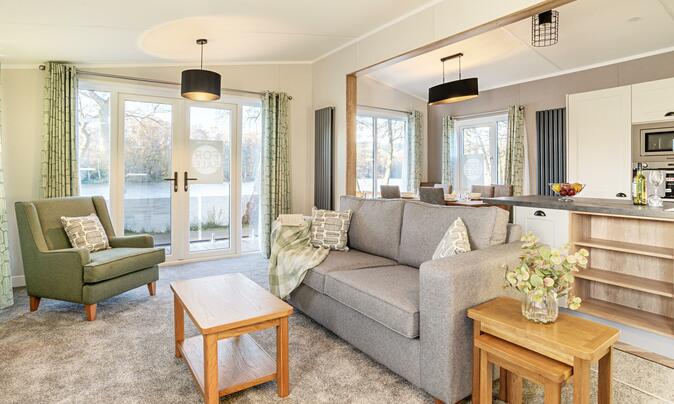 Sunseeker Sensation Lodge
Panoramic lake edge plot at Pearl Lake Country Holiday Park
On a superb lake edge plot at Pearl Lake, the Sensation offers a panoramic front that brings the outside in!
Furnished to the highest standard, the Sensation offers quality, sophistication and a warming country feel and includes a luxury appliance pack including a dishwasher, washer/dryer and wine cooler as standard.
The Sensation offers a luxury open-plan living experience with a country-style colour scheme and armchairs, a unique feature kitchen island unit, breakfast bar and modern appliances, and a large six-seater oak dining table.
Luxury master bedroom space is now complimented with an en-suite shower room.
Located on a panoramic lake edge plot, this luxury holiday lodge is available to view and ready to occupy.
For more details please contact Ben or Libby on 01568 708326 or contact us.
Holiday homes available at our other parks