Pearl Lake - a natural lake with fishing
Exclusively for holiday home owners, tourers and self catering visitors staying on park.
N.B.: It is important for visiting anglers to know that Pearl Lake is a natural lake that has fish in it. It can be fished but it is NOT a dedicated fishing lake. As a visual spectacle it is important that it delights those who do not fish as much as it can excite those who do. For this reason the lake is neither designed to be, nor is it stocked as, a fishery.
The water quality is paramount to us and all the contributors to this – flora, fauna, roots, lilies, freshwater mussels, etc – provide an abundance of natural food and protection for the fish. Weed beds are very important nursery areas for young fish. Camouflage and protection are also important benefits of aquatic vegetation. Most important to the lake ecosystem is the diverse food source they provide. Submerged plant leaves and stems provide an ideal surface for the growth of microscopic attached plants, called periphyton. These small plants are grazed by small crustaceans and insects which in turn are an important food source for fish.
For anglers we understand that aquatic weeds can normally be tolerated in small numbers, but with excessive growth they become a nuisance, particularly in summer. 
We hope this does not spoil your enjoyment of this beautiful piece of water.
Question is, if you choose to fish the lake, do you believe your bait is the more attractive option than all that nature has to offer?
Stay in our self-catering properties and fish for free!
All fish must be returned to the lake
Pearl Lake is the crown jewel of all Herefordshire lakes. Its sparkling spring fed waters are crystal clear all year round, even during the wettest English April since records began. (2012)
The swims are varied– some are open while others are hidden away in the woods surrounded by weeping willows, rhododendron bushes or great gnarled oak trees that must be 500 years old. These places are maybe for the solitary angler, someone that likes to quietly stalk his fish.
The magic of Pearl Lake is the feeling that you are welcome and accepted into the peace and tranquillity from the very first visit. Whichever spot you choose to fish there will be tree creepers and nuthatches on one side, robins and kingfishers on the other.
To fish in a world and where time does not matter, please read on!</a>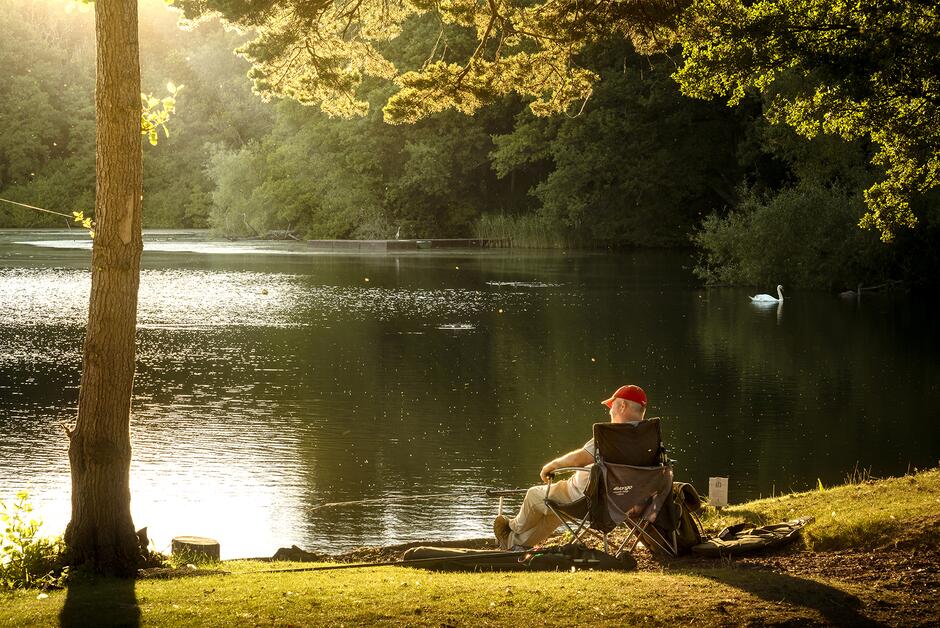 Fishing for match anglers
Regular Pearl Lake anglers know a thing or two about match fishing with most matches taking place in the summer months, there is often a few lady anglers too.
Fishing for the specialist angler
There is plenty of scope at Pearl Lake for the angler who is looking to catch a 'glass case' specimen, even though we don't tend to stuff big fish anymore! It's not just the carp and tench that grow so well in the rich, clear, spring fed waters, but big bream and pike are landed too.
Specialist anglers often like to fish alone and so they are naturally drawn to the quieter, more overgrown side of the lake where everything looks as it has for hundreds of years. Although Common carp of over twenty pounds and tench of 5-10lbs can be caught from anywhere, local knowledge favours the pegs at the top end of the lake. In Spring and early Summer months when fish may be spawning, the big fish can often be found in the shallower water from pegs at the opposite end of the lake.
Fishing for bream
A bronze bream of 5 or 6 lbs is a lovely fish but it still gets called a 'slab'. The bream is a favourite with many and is often found at the top end of the water not far from the island. Look for the ledge at the far end of the island which is sometimes a bream hotspot. That the species is spawning successfully is shown by the number of anglers whose bag has included a dozen or so smaller bream, affectionately known as skimmers'. A bunch of red worms or maggots fished on the bottom is still a great bait for bream of any size. (Bream 2017 8lb 2oz)
Fishing for carp
Specialist carp fishing is almost a sport in itself since many anglers fish for carp and nothing else all year round. There are plenty of double figure carp in Pearl Lake and they can be caught from almost any peg. Some people prefer to fish a dog biscuit on top, close to the lilies. Other are confirmed method feeder people and they often prefer to cast out to the middle of the lake; they would use nothing else. Yet others are captivated by the sight of a float and quite often best results are obtained close in maybe fishing a 'natural' bait such as bread or a lobworm.
Fishing for perch
Perhaps the most beautiful of our native species of fish, the perch is the brigadier; a swashbuckling predator of small fish. Many a small boy (including me) started on the road to lifelong angling as a result of seeing that spiny dorsal fin, the dark green bars down the side of the fish and the brilliant crimson pectoral fins for the very first time. This fish is found all round Pearl Lake and if you are looking to catch perch, look for trees and snags in the water, look also for the burst of fry as they leap to escape the chasing 'stripey'.
Fishing for tench
The average weight of the tench is around 6lb. We believe the current lake record is held with a fish of 11lb 2oz. This was taken on a hair rigged corn cast 50 to 70 yards into the middle of the lake from the woodland side.
Tench can be caught on all methods and baits, but seem to have a liking for sweetcorn. This can be ledgered or presented underneath a waggler float 3 to 4 rod lengths out, especially on the caravan park side of the lake. The tench feed predominately at first and last light and are more prolific from late spring and into summer during May till August.
A small patch of pin head sized bubbles can locate feeding tench and casting into this area might produce a fish.
Fishing for pike
The pike is a ferocious fish and the speed with which it can attack and catch its prey is in the blink of an eye. Many people like to use dead baits, especially sea baits such as herring to catch pike, but others prefer to use an artificial lure such as a spinner.
Either way there are pike in the lake so make sure your landing net is big enough to lift the fish from the water.
Please note:
Fishing is exclusively for owners, tourers & self-catering at Discover Parks.

All tourers must obtain a fishing ticket prior to fishing.

Please pick up and dispose of all litter including discarded fishing items

Please observe all the fishing rules (available from reception)

If any items of fishing tackle are tangled in foliage then please report them to reception

Please observe the wildlife on the lake

Night fishing only with prior permission from office (wood side only)
Your nearest Fishing Tackle Shops are located at Docklow Pools (Nr Leominster), or Hereford (Various).
A VALID ENVIRONMENT AGENCY ROD LICENCE IS REQUIRED